Los Olivos Mexican Patio Scottsdale
Posted by Judy Orr on Friday, August 6, 2021 at 8:27 PM
By Judy Orr / August 6, 2021
2 Comments
Before we moved to Arizona, we had visited many times. My Mom lived in Mesa and she took us to Old Town Scottsdale. But I didn't find Los Olivos restaurant until a few years later when I went to Arizona on a Girl's Week Away.
During that trip, we split up a bit in Oldtown and I thought I was getting lost. But I found Los Olivos Mexican Patio and the exterior decor piqued my interest, plus I love Mexican food. I had to go find the rest of the group so we could have lunch there.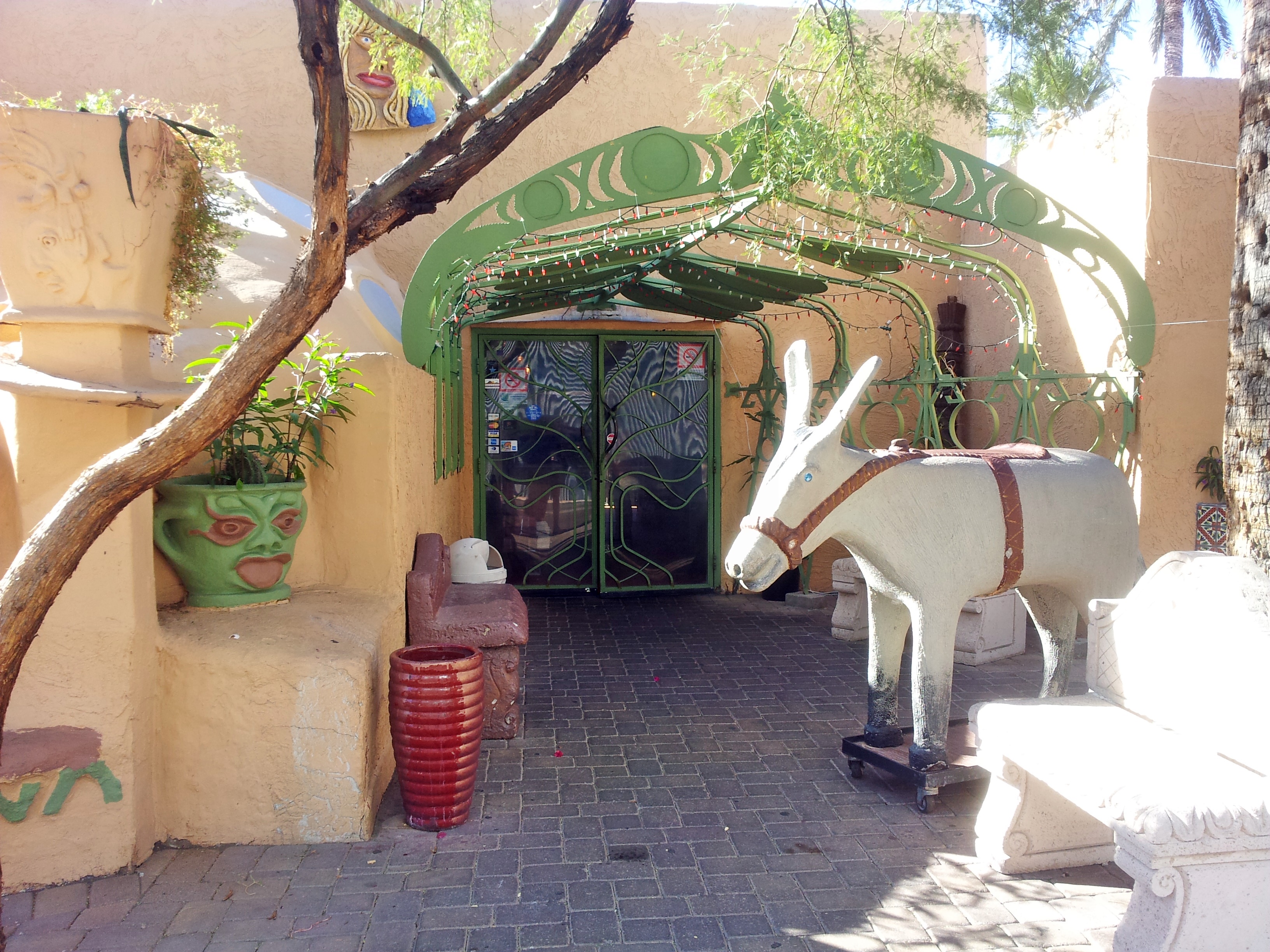 The fun entrance that made me want to see more
The "Blue Room"
As we walked inside the restaurant, we were amazed at the first dining area we were able to eat in. I called it the "ocean room" with its strange blue ceiling and the aquarium. I'll call it the "blue room" here. We were lucky to be seated in that room, but since then I've only been in there once, and that was recent.

I've never seen anything like it!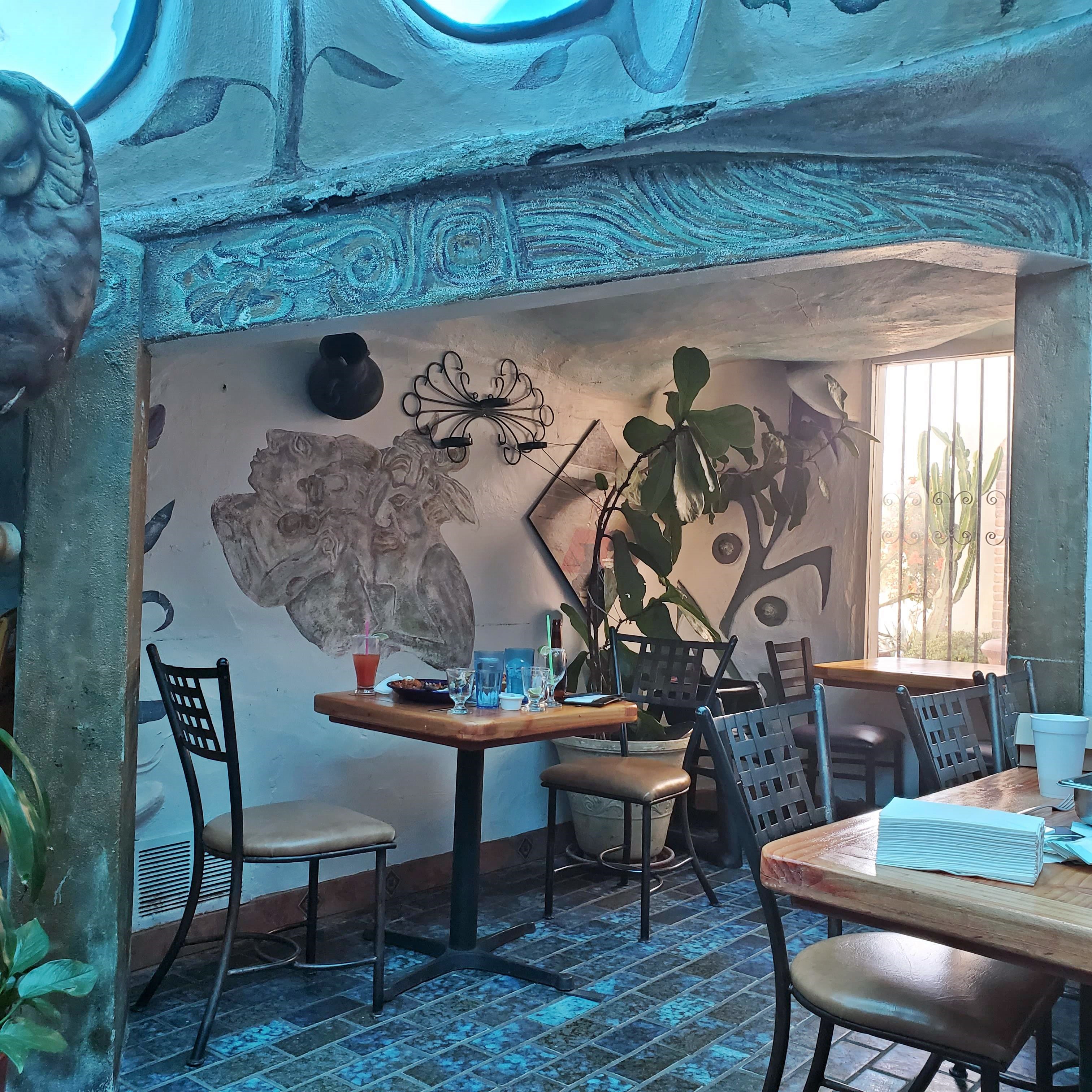 Cute little alcove in the "blue room"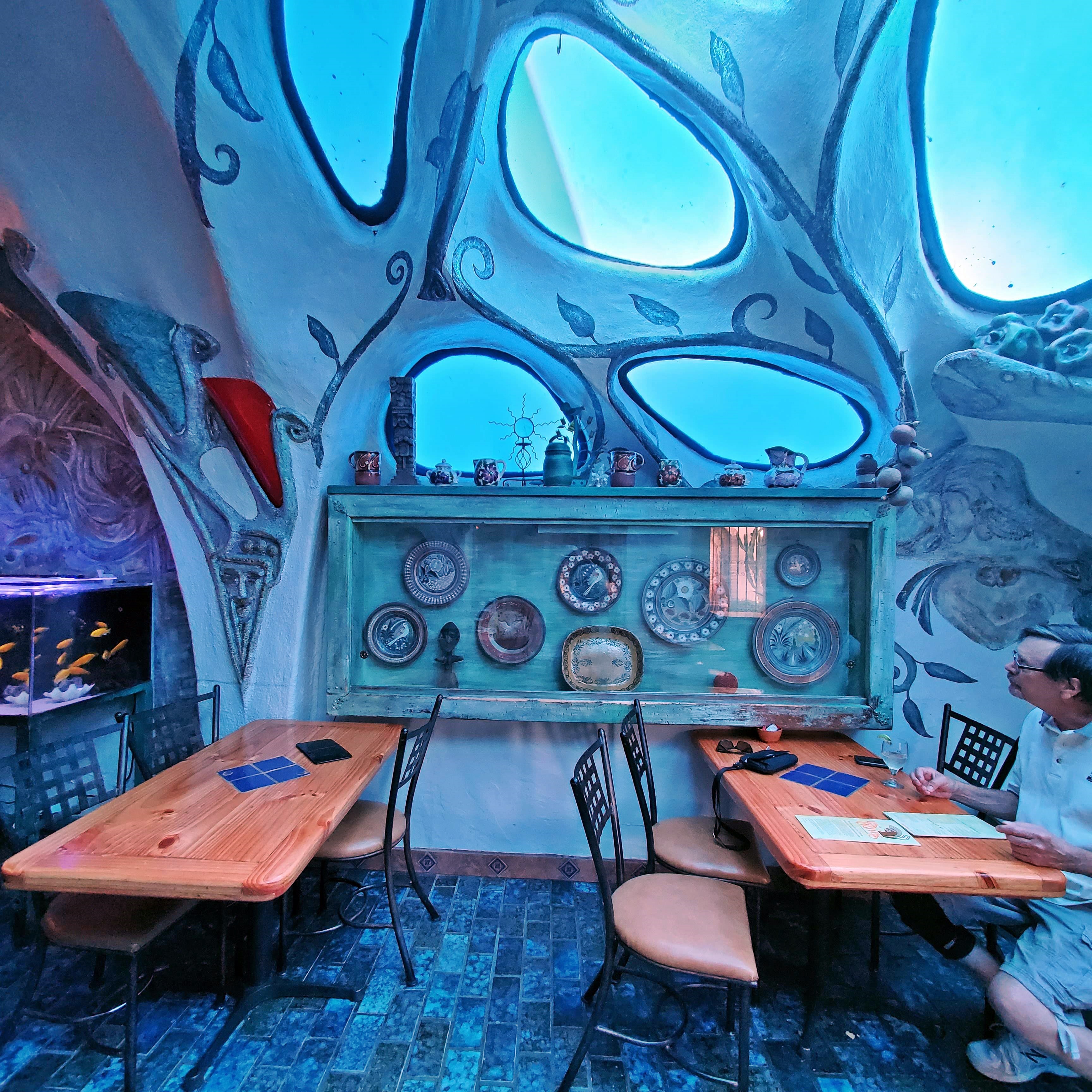 Jimmy waiting to order in our favorite area of the restaurant - this was the 2nd time seated in this room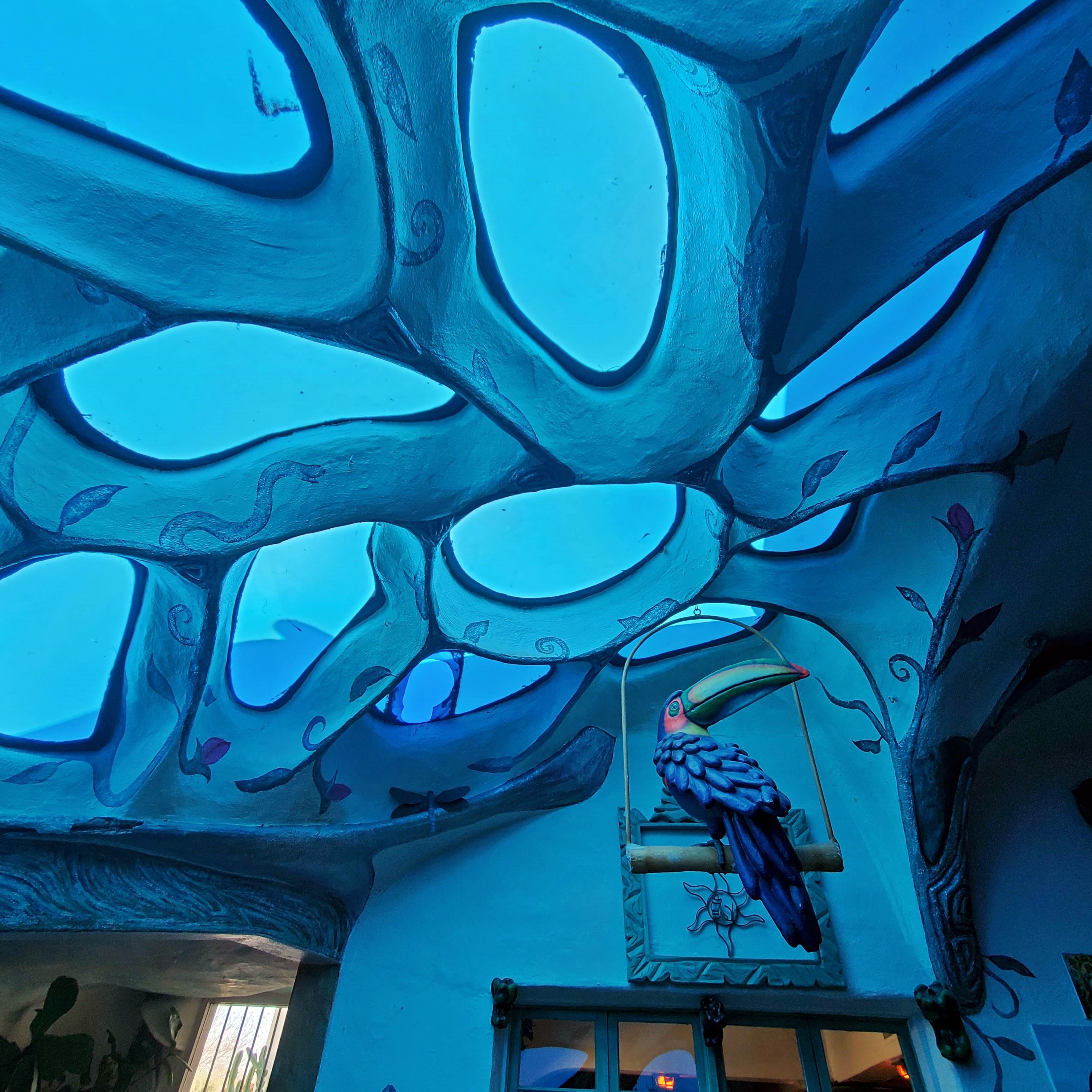 Close up of the ceiling with a toucan on a perch
The bar
Wait until you see the bar area, which is huge with a ceiling that can be opened. On many days, birds will fly in and I'm sure a few get stuck inside when the ceiling is closed off. You can dine in the bar area if you wish.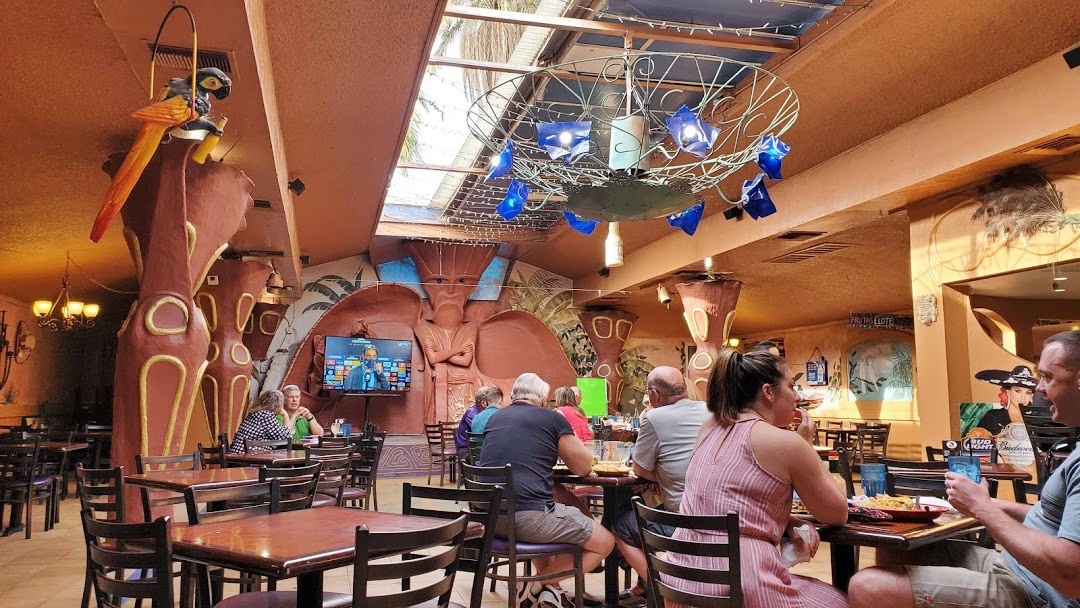 Another crazy, colorful room with a ceiling that can be opened
As you view the photo above, check out some of the details. You can see the open ceiling and check out that wacky chandelier. Not sure what those columns are supposed to be, but I love them. Looking towards the back of the photo, you'll see a statue that is actually on a stage. I've never seen a performance on that stage but I guess it holds that TV well.
The bar has a Happy Hour menu from 4:00-7:00 p.m. You will have a selection of lower prices on food and drinks.
The food
Although I'd probably go back just for the ambiance of this place, we also love the food. We always take our guests here when they visit and I've never had anyone complain.
The chips and salsa are delicious and my sister-in-law thought it was the best salsa she's ever had. Our friends, who own a pizza restaurant in Illinois, loved the fish tacos.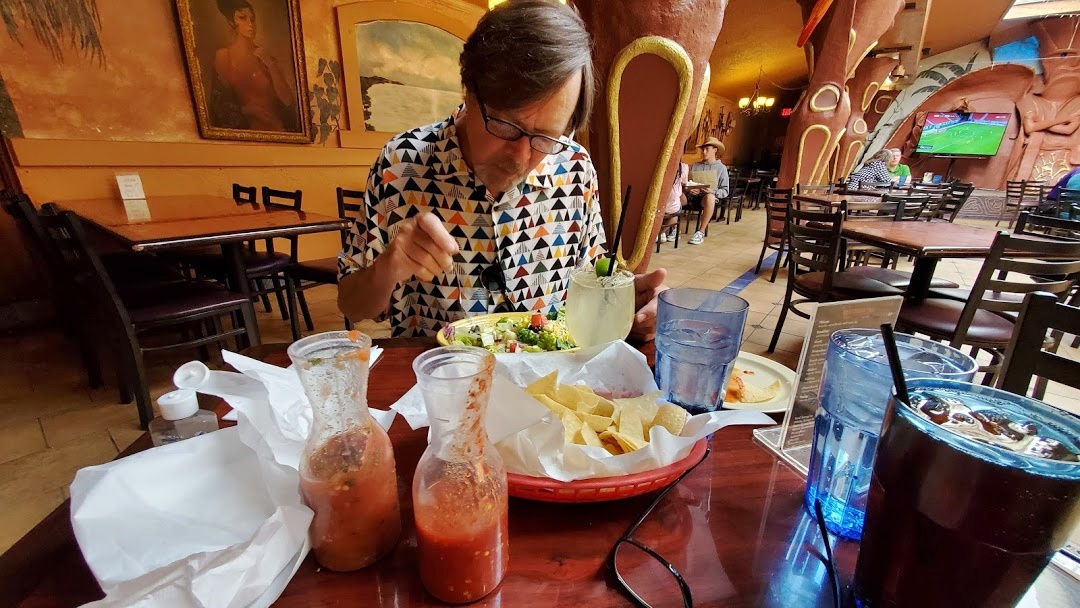 Jimmy eating in the bar area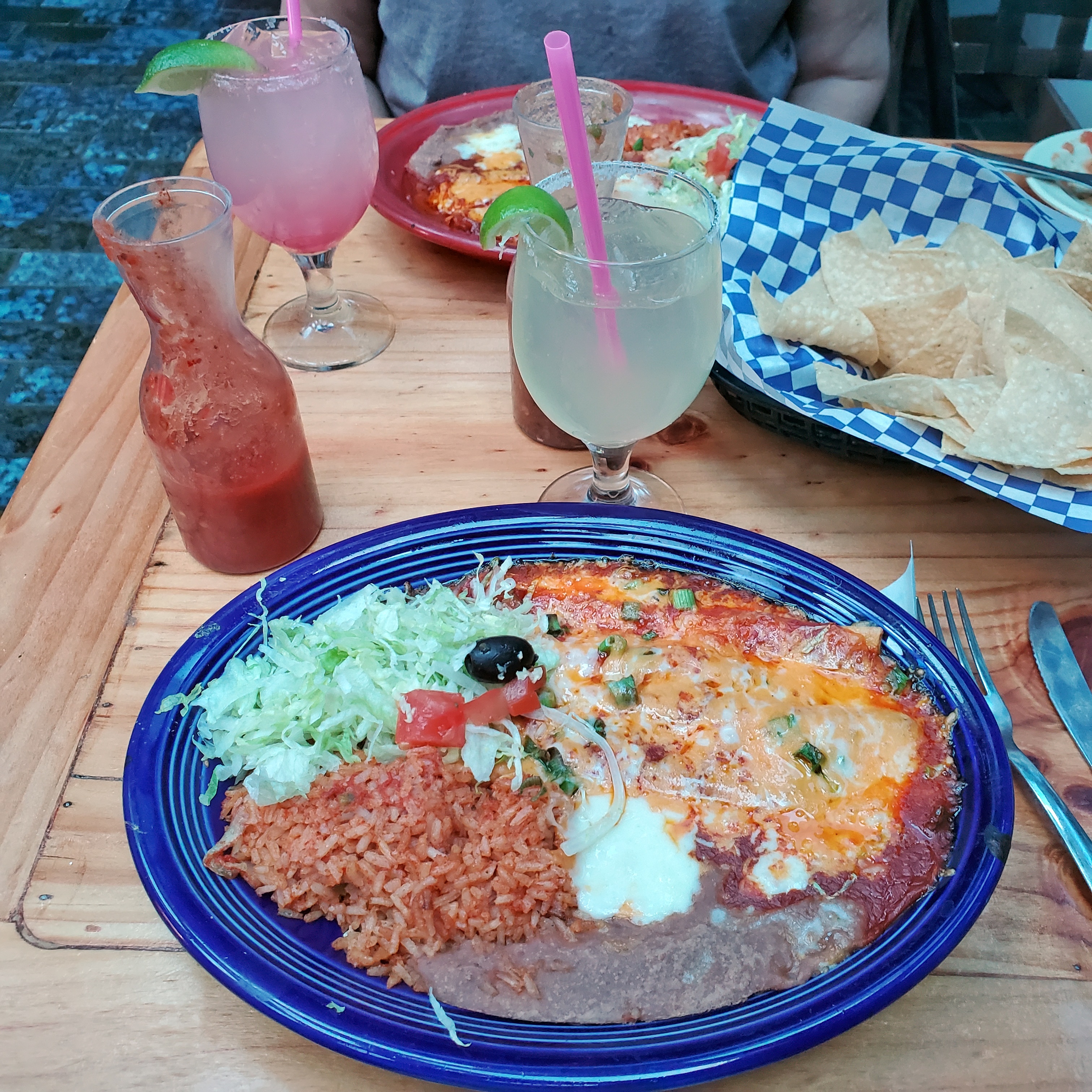 Enchiladas
The pink drink in the back of the photo above is a Prickly Pear Margarita. So good! I thought I had a photo of our favorite dish on the menu - carne asada. Jimmy ordered it a lot before I took a taste.
Now it's usually the only thing I order. I've tried carne asada at many different restaurants to compare, but none have been as good as Los Olivos Mexican restaurant. You have a choice of two different dishes - with a large salad or with beans, rice, and a cheese and onion enchilada. Delicious!
Even the bathrooms are fun
You have to look up when you go to the bathroom. They also have artsy ceilings.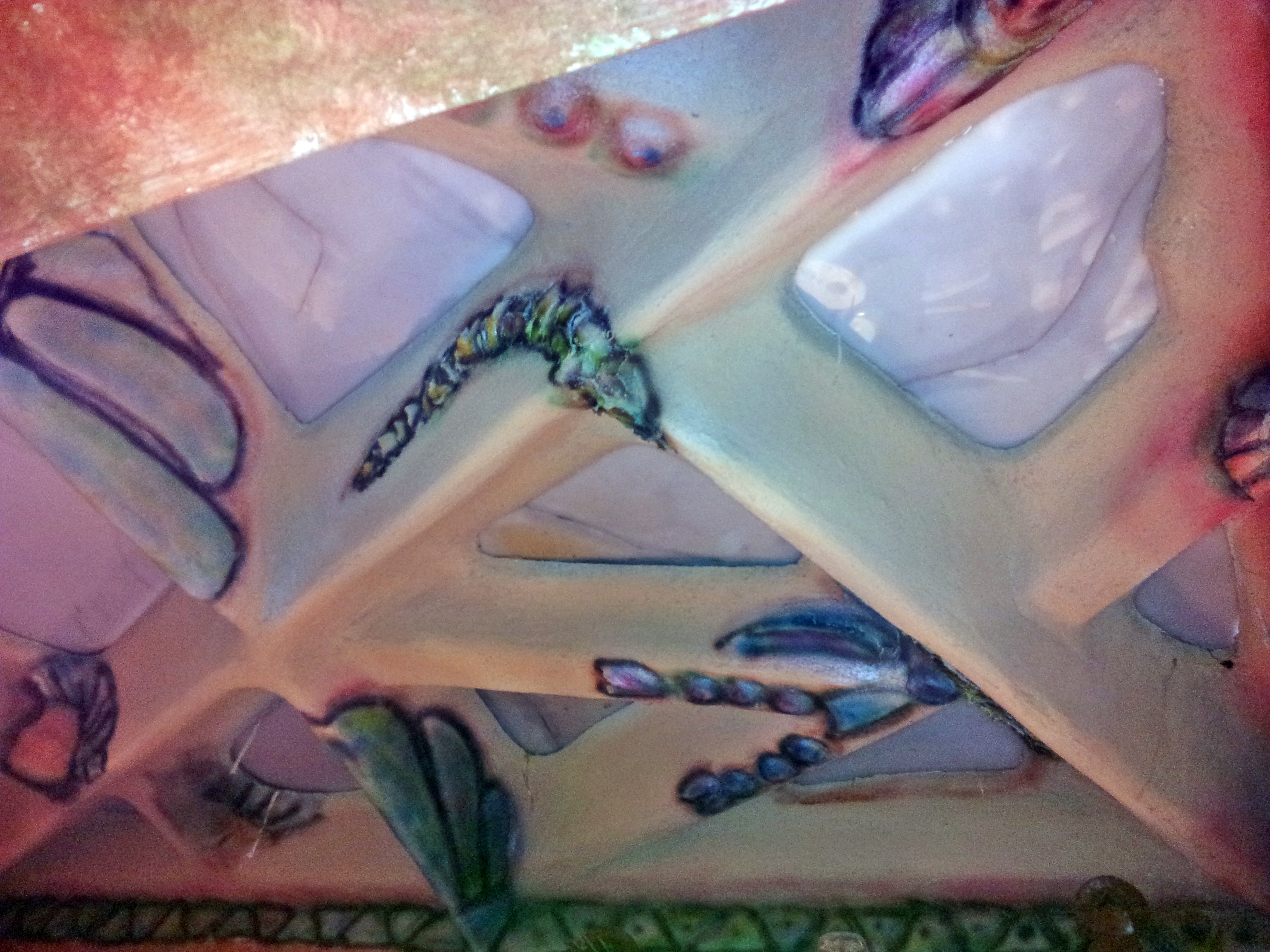 Look at those details
There is a patio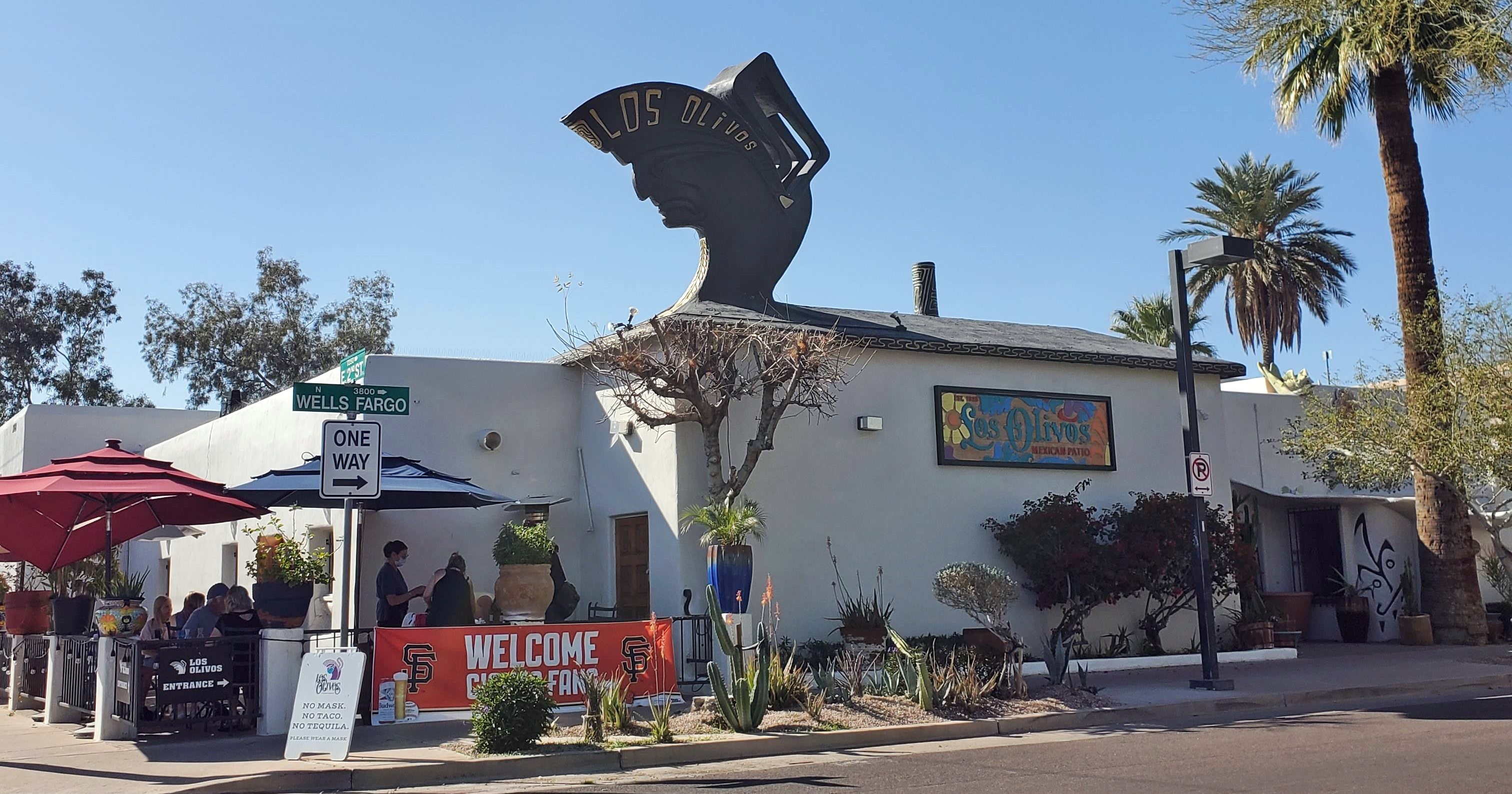 You can eat outdoors
With most restaurants, I prefer to eat outside if it's not too sweltering. But I love the interior of Los Olivos Mexican restaurant so much that I usually choose to eat inside.
We have eaten on the patio a few times when it was nice out. We had a large group with two dogs and they were allowed.
Every time we end up in Old Town Scottsdale I always say that I'd like to try a new restaurant. But we usually end up at Los Olivos (especially for the carne asada).
It's one of those few places that I get "the feels" when I step inside. These are only a handful of pictures I have. There is so much more to see and the restaurant is large with different dining areas.
It is located at 7328 E 2nd St Scottsdale, AZ 85251 - there is a free parking garage right next door. The back of the Scottsdale Museum of Contemporary Art is across the street.
Phone: 480-946-0291 - you might want to make reservations because there have been times where we've waited for a while.