Latest Real Estate Article Featuring Judy Orr
Posted by Judy Orr on Saturday, November 25, 2006 at 12:06 PM
By Judy Orr / November 25, 2006
Comment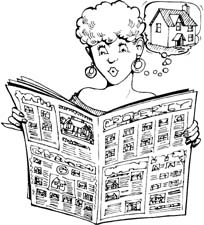 I was published again in the Southtown Star in the November 12th, 2006, issue in the Real Estate section. The title of the article was "Be Wise When Making Your Next Move." The story was about how you should prepare before moving, especially if you have a property you need to sell first. Most of the articles I've been interviewed for have been online on the Daily Southtown's site but I couldn't find an online version of this one.
It's a tough decision on what should come first, the sale of your current property or the purchase of the new place. Personally, I would want to sell my home first or at least prepare some kind of contingency financing, which is what I did when I moved 3 years ago.
Maybe it's because I lost my "dream home" (at the time) when we were looking for our second home while our first one was on the market. I purchased it with a Contingent on Sale contract and got quickly bumped by another offer. At the time, which was over 25 years ago, bridge loans and other types of financing were not available, so contingencies were more popular.
Today is a different story. Our MLS (Multiple Listing Service) groups all contingencies together, unlike many years ago when it was easier to separate contingent on sale from contingent on close, attorney/review and other types of contingency listings. Because of this, many agents simply do not give buyers any of the contingency listings so buyers don't get confused.
When a seller accepts any kind of contingency contract, there will definitely be fewer showings. That might not have been a big deal during our past seller's market when even overpriced listings could sell quickly. If a seller accepts a contingent on sale contract, there is less of a guarantee that the buyer's home will actually sell within the agreed-upon contract time. Because of this, many sellers are no longer considering contingent on sale offers. Some sellers that did agree to such a contract regretted their decision.
This is why I suggest that move-up (or move-down) purchasers sell their place first or get a bridge loan or some kind of home equity loan so they do not have to use a contingent on sale clause in their contract. You have to be careful using a home equity line, though, because if your mortgage company knows you're selling they won't give you this kind of loan and it could affect your ability to get another mortgage.
You'll also need to price your property correctly because even if you get an interim loan in place, you don't want it to cost you extra money because you've priced your current property too high. The longer it takes to sell your current home, the more interest you'll be charged.
Some buyers don't even get interim financing and end up making two mortgage payments. Most people cannot afford to do this. When you have to sell a property while buying a new one, you have to do twice as much homework. It's not anything like the first time you bought a home.
The good news is that it's a buyer's market. You will probably have a lot more inventory to view which will make it easier for you to find the perfect home and possibly at a reduced price. The bad news is that it's a buyer's market and your current home might take longer to sell than you planned and you might have to give a larger price reduction than you anticipate.
Be sure to price your current home properly and speak to your loan officer to see what the best method would be regarding interim financing. Do these things before you even start looking because you just might find the perfect home quickly. If it's perfect for you, it might be to other buyers who have taken care of their contingencies and are ready to purchase.