HELP THIS GERMAN SHEPHERD FIND A NEW HOME
Posted by Judy Orr on Wednesday, July 12, 2006 at 10:26 AM
By Judy Orr / July 12, 2006
Comment
UPDATE: Princess has been rescued! Thanks for the inquiries and read the story here.
I was called by a friend and prior client that I needed to get a house listed where the owner passed away. I found out that there was a German Shepherd living in the house. I have a fear of big dogs, so I wasn't excited about this idea and I immediately knew I had to help find a home for her.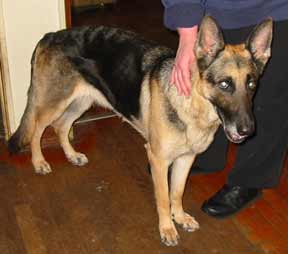 Meet Princess, the sweetest German Shepherd I've ever met. Although I love animals, German Shepherds were never dogs I would have considered bringing into my home. However, if I didn't already have my legal limit of 3 dogs (for Oak Lawn), I would certainly take Princess in if we couldn't find someone.
She is currently home alone as her owner died recently. She has a friend that comes in and feeds her every day but her friend cannot take her as pets are not allowed where she lives. You can see that Princess is thin as her ribs are showing through.
Princess is about 4 years young and as mentioned, needs to put some weight on. I don't have all of the details of the owner that passed away, so I'm not sure how well he was taking care of her. However, every time I have seen her there is a bowl of food available for her. She is sweet and gentle.
The executor of the estate (a home I am selling in Chicago), cannot take her in and has tried contacting several no-kill shelters and German Shepherd rescue places but no one can take her in. I offered to post over social media to try to find someone.
If you have an interest or know of anyone else that might please pass this information along to them. UPDATE: we were able to find her a home and are so happy about it.