My First Impressions of Arizona
Posted by Judy Orr on Saturday, June 20, 2009 at 5:37 PM
By Judy Orr / June 20, 2009
Comment
My parents had been living in Mesa, Az. for many years (10-15) before I finally visited them. When my boyfriend Jimmy (now my husband) heard I had never been there he insisted on taking me. My parents were very excited to finally be able to show me their home and their new state of residence.
I was finally excited to be going. As I've mentioned in a previous post, Arizona was not calling my name.
After departing the airplane I noticed that the Phoenix Airport seemed small and more congested than our two Illinois airports. Not impressed yet.
Driving from the airport to my parent's house didn't instill much excitement in me, either. I did notice that things seemed cleaner from my highway view. I enjoyed the highway "wall decor."
I don't remember the exact moment when I saw a mountain. But I do remember my Mom pointing out Camelback Mountain to me. This was the first time I had ever seen a mountain! That was a "Wow!" moment.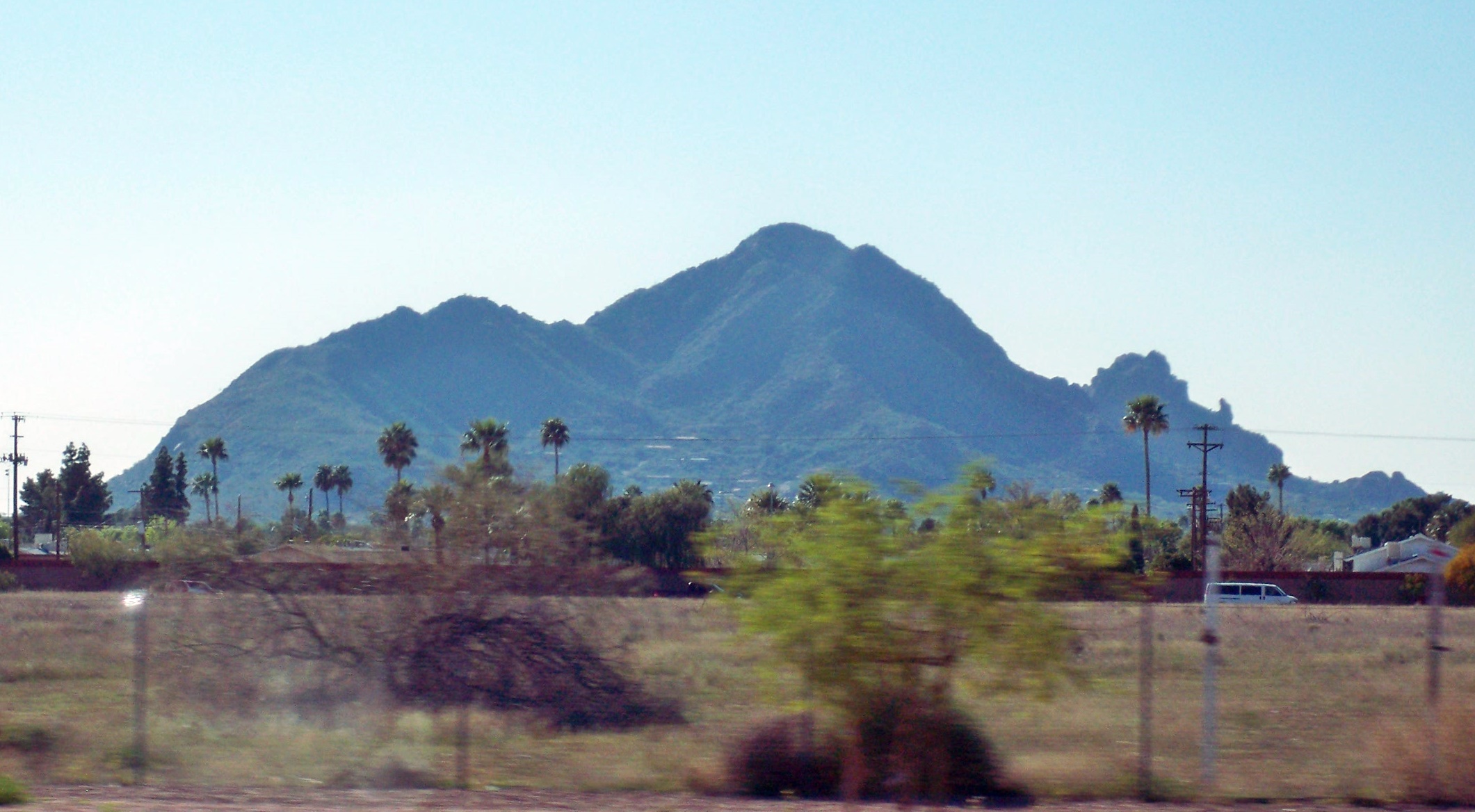 Driving past Camelback Mountain
Tortilla Flat
My next memory of that first visit was when my Dad insisted we go to Tortilla Flat, which I've referred to as Tortilla Flats for many years. That's probably what my parents called it. I was afraid of the winding roads to get there, and they still creep me out.
On our way there, I realized that I had never seen a real saguaro cactus. And here they were, lined up on hillsides like an army ascending. I was mesmerized and realized that I had only seen this kind of landscape on television and at the movies. I was in awe and actually started tearing up. I was falling in love...
The only restaurant there, called Superstition Restaurant & Saloon, was interesting with the dollars on the walls and the saddle bar stools. And the bathroom with the stall doors with western ladies painted on them was fun.
I always enjoy an old town vibe and any kind of tourist attraction, so it was fun visiting the general store and the other little store where you can get prickly pear ice cream. The last time we were there the noose was gone.
Mesa
Because they lived in Mesa, they showed us the Mesa Arizona Temple (which we have since seen lit up around Christmas), the Mesa Market Place Swap Meet, and they brought us to Old Town Scottsdale.
They also took us out to dinner at the Landmark Restaurant, which was located in an old church. It was buffet service and we loved it. Unfortunately, it has since closed down.
Scottsdale, Arizona
But I think it was the trip to Scottsdale that I loved the most. I don't remember any specific restaurant we went to, but I did remember Old Town Scottsdale. Since I share my sweet tooth with my Dad, we probably had ice cream at the Sugar Bowl, but I prefer gelato at The Gelato Spot now, which now also serves pizza.
Hmmmm, Arizona was kind of cool!
It's downright cold here in Oak Lawn, IL, with a temp of 24 degrees and a windchill factor of 12. Brrrrrrrrr! On the bright side, it is much warmer than last week and is a very sunny day. It's 73 degrees in Scottsdale but feels like 80. I can't wait to return!