But It's a Dry Heat!
Posted by Judy Orr on Wednesday, July 22, 2009 at 9:20 PM
By Judy Orr / July 22, 2009
Comment
You have to be careful about how you talk to my Mom. She's very opinionated and demands respect, but she can also be hurt easily. But after hearing her broken record over and over during phone calls, "but it's a dry heat…" I couldn't take it any longer. I replied, "OK, Mom, I get it! It's a dry heat. Enough already!"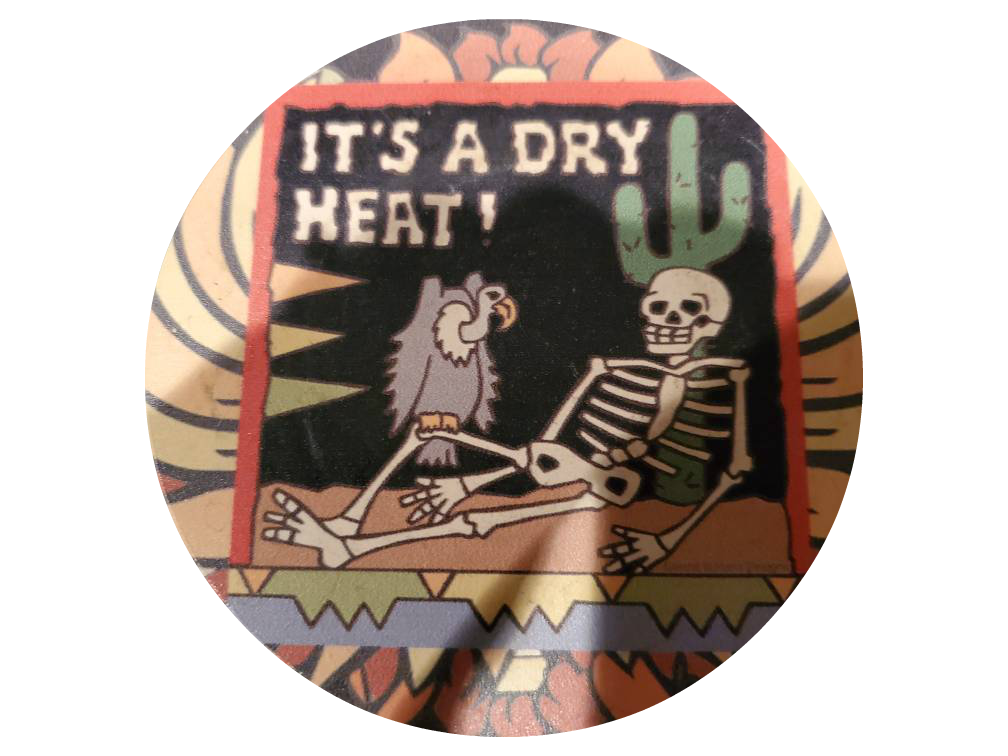 A coaster we just had to buy
As little interest as I had in Arizona, another reason was the high temps. Let me state that I am always cold. I love warmth. In the summer here in Chicago I only use the a/c if it's really hot and humid, or if it's warm and humid (which makes it feel hotter than it really is). A 90-degree day in Chicago is extremely hot because there's usually high humidity in the air.
So when I'm hearing temps of 105, 110, 115, and higher, I couldn't even imagine how it must have felt. I had seen people fry eggs on the pavement on television. My Mom even admitted that in the summer they try not to go out in the hot sun. I could only imagine a vampire scene of people only shopping at night.
So as much as I like it hot, I couldn't truly understand what her constant comment about dry heat really meant. But I learned quickly on my first visit. My thick hair normally took hours to air dry at home. It dried almost immediately in Arizona. My hair gets frizzy during Chicago summers. It was nice and straight in AZ. My hair never looked so good!
I also noticed that my lips and skin were very dry. I needed chapstick and skin lotion, stuff I normally only use in winter in Chicago. As a side note, I was also very dry during a trip to Keystone, CO in the summer (we went for a wedding). I think I felt worse in Colorado, but that might have been from being at such a high altitude.
So now I'm completely into the dry Arizona heat. It's been so cold here in Chicago this winter that there is still snow piled around as it hasn't been able to melt away since the last few snowfalls. It has warmed up enough for the huge icicles to fall off the eaves of our house and the noise is really loud and the dogs bark, thinking someone is knocking on the door. Even my daughter ran into the room I was in this morning asking me what that noise was.
My First 110 Degree Arizona Day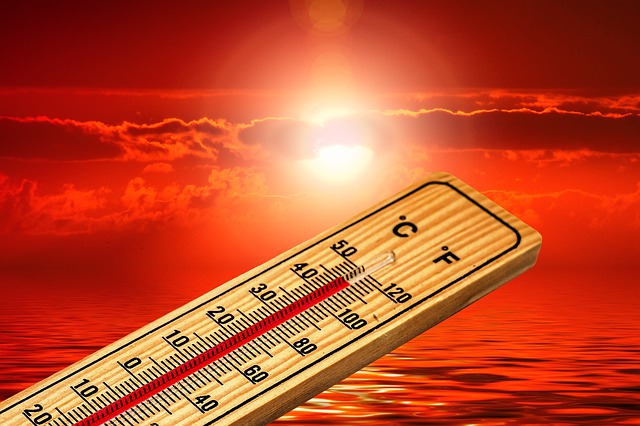 My son and I visited my Mom (my Dad had already passed) and went to Out of Africa when it was still located in or near Mesa, AZ. It was the first time I felt 110-degree weather. Sweat was dripping down my back, and I said to my son, "it's a little warm out." He agreed but we loved the zoo so much that we spent the whole day there and were late to dinner. The zoo let us call Mom with their phone so we could tell her we were still at the zoo (we either didn't use cell phones yet or we didn't have them with us).
We both agreed that we'd go in Mom's pool when we got home, but she had dinner waiting for us. By the time we were done eating, it was no longer 110-degrees and we were no longer sweating.
She didn't have a heated pool and the sun was going down, and when we went out & dipped our toes in, we both said "it's too cold." We went back in and Mom said "I thought you were going swimming." She couldn't believe it when we told her the water was too cold.
I can't wait to get back to Scottsdale, Arizona's dry heat. And I have since been in temps up to 116-degrees, not the highest recorded, but pretty darn hot.
Give me a call at 708-536-8200 if you want to live in the dry heat of Scottsdale, Cave Creek, North Phoenix, Carefree, Fountain Hills, and Paradise Valley.