Bringin' the 70's to Arizona
Posted by Judy Orr on Wednesday, October 28, 2009 at 3:44 PM
By Judy Orr / October 28, 2009
Comment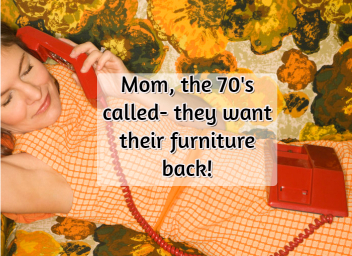 When my parents moved to Mesa, Arizona, I could only try to imagine what kind of house they owned and what kind of subdivision it was in. Was it surrounded by desert? Did they see any scorpions or rattlesnakes? Why the heck did they decide to move to Arizona?!!!
They bought a newly constructed house in Mesa that had 3 bedrooms, 2 1/2 baths, a formal dining room, living room plus a family room and an eat-in kitchen. There was an enclosed porch and a pool in back. We always had pools in Illinois, but they were above-ground. My Dad loved the pool so I'm sure he loved having one built-in.
My daughter visited them by herself at the age of 10 or 11. My Mom sent me pictures of her by the pool. It looked nice and they also sent me a photo of the front of the house, which looked cute. When my daughter showed her friend the pool photo, the young friend said, "Oooh, who's that guy in the back in a Speedo?" My daughter laughed and replied, "That's my grandfather!"
When I finally took the leap to visit them (after more than 10 years of them living there), I was excited to see how a home in Arizona is decorated. I'm not a fan of mock southwest decor. I like rustic, but not the phony stuff like couches we saw here in the Midwest for a while with the zig zaggy southwest patterns on them, usually in pastels. That's what I expected to find at my parent's house.
But I was a bit let down...
As I stepped into their nice foyer, I couldn't believe my eyes. There was the same couch they brought with them from Oak Lawn, IL. At least the plastic seat covers were removed. But this was not what I expected. You can't move old 70's midwest furniture to a brand new house in Mesa, AZ, no matter how good the condition is.
Here are my brother and I, with kitten Fluffy and the worst dog we ever had - Pierre, the French poodle (that's what my parents were told - not just a poodle, but a French poodle) who would bite with no warning, sitting on that couch - with the plastic covers - back in IL. My husband wanted to "fix" this photo, but I wanted to leave it as it is with its old 70's vibe, including my red-eye.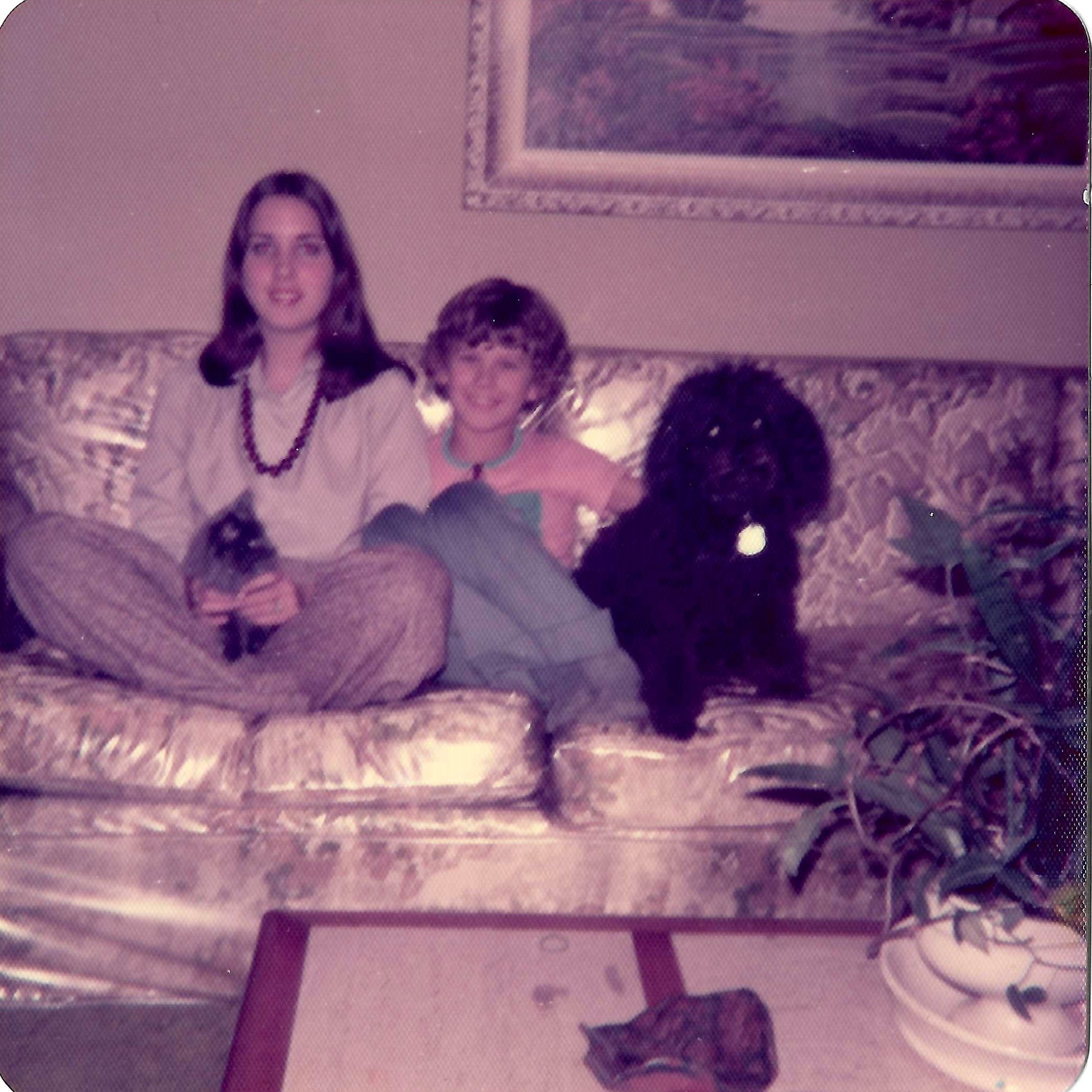 And even though I wasn't into home decorating as a child or teenager, I always thought our light wood dining room set was ugly. I don't know what it was called. It wasn't oak or pine - it had kind of a taupe color. Yet there it was, in all it's unglory, in the formal dining room of this newer Arizona house. I wouldn't have known I was in the southwest once I stepped inside their house. I guess I was expecting adobe and rounded archways and something of a bit of southwest architecture. But what I got was a deja vu moment.
The family room was a little better. Although I think they originally had the couch from the family room back home in IL, they eventually replaced it. But they did have one of those pastel southwest "paintings" hanging over the couch. Mom brought that picture to California when she moved there and everyone asked me if I wanted it when she passed. Um, no.
The nice brick/stone fireplace was the only real architectural feature in the house. I was surprised to see a fireplace in Arizona. But we used ours a few times in our Scottsdale townhouse. I never visited my folks in the winter, so I didn't know that it can get cold until we had our own place.
Don't get me wrong, the house was cute and I would have loved it. The backyard gave me a taste of Arizona living with some nice big palm trees, cacti, stones, and the pool, all surrounded by a brick and block fence. Those fences were different from what we were used to in Illinois. We had mainly chain-link, wood, wrought iron, and as time went by fences were made in different material, but rarely cement and block.
Another thing my Dad couldn't give up, besides the old furniture, was grass. He had grass in front of the house. I was prepared for this since my Mom told me about it.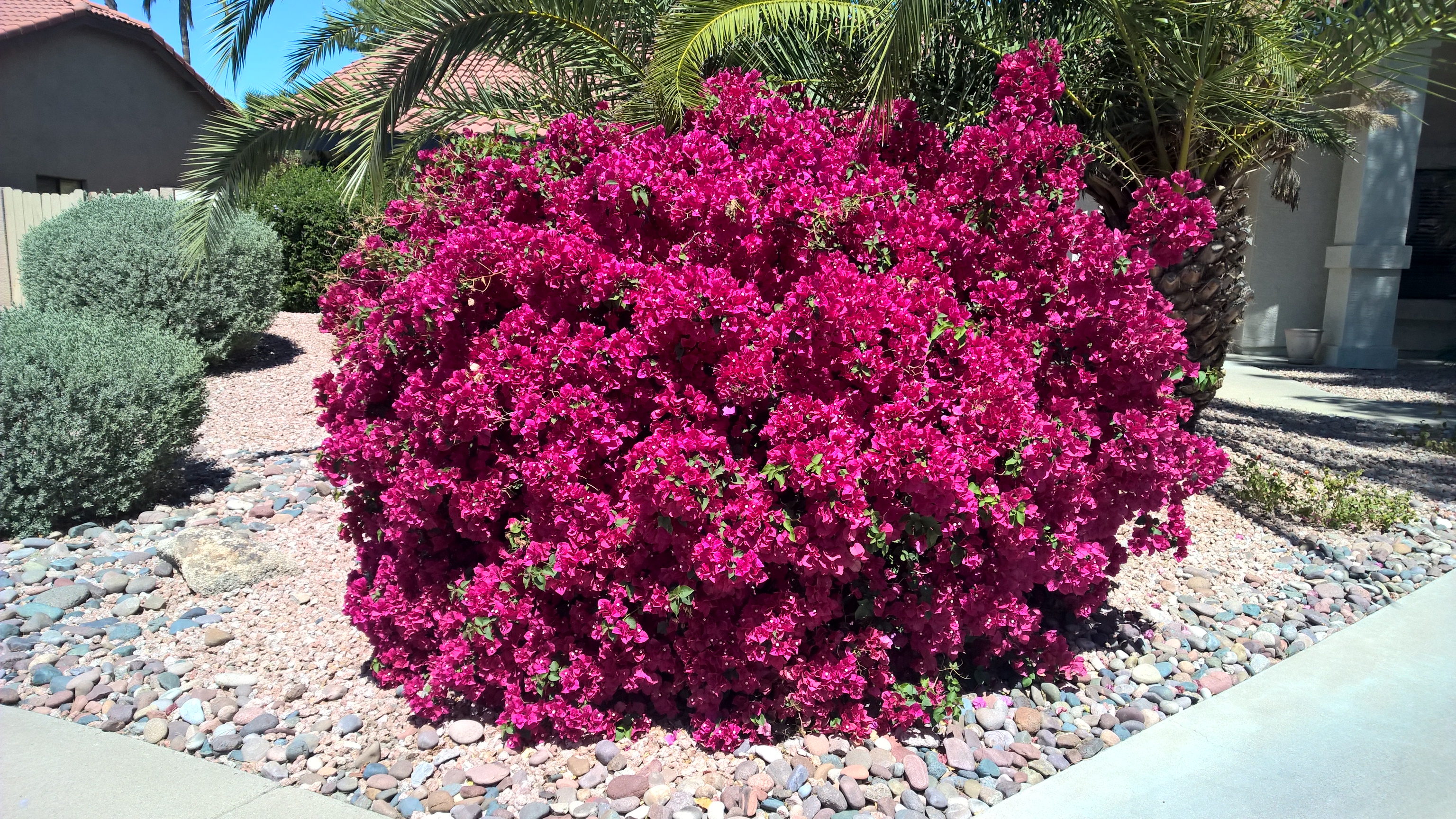 But my favorite memory was my introduction to their big, beautiful bougainvillea. This is not theirs, but a different shot I took. Their's was bigger and right in front of their house. What a beautiful flowering shrub. And this one flourished with my Dad's loving care. I'll have to drive out to their house and take a picture or try to find one and post it here.
All in all, I was pleased with the exterior of their home as it brought a tiny sense of what I expected living in Arizona to be, but the old furniture had to go! And it didn't until Mom finally moved after Dad passed away.
But it wasn't just my parents
After my parents moved to Arizona one of my Mom's cousins moved there too. When we visited their house I felt the same thing. Old fashioned midwest decor in a new Arizona house.
They also brought their Illinois furniture, knickknacks, and an old organ. Jimmy played it when we visited them one time with my folks in Sun City West, Arizona.
A while back when I had a Girl's Weekend Away in AZ, we stopped in at the house of elderly sisters that used to work with my friend's Mom many years ago. We found out before we visited that they were my husband's friend's aunts - small world! They actually had plastic covers on their heavy Greek provincial furniture. Every lamp was a sculpture. There wasn't a hint of southwest decor in that house! It was like a museum!
So I guess you can take the old people out of IL, but you also get their furniture.